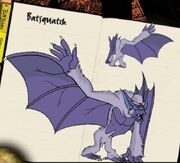 The
Batsquach
is cryptid that only appeared in the video game, The Secret Saturdays:
Beast of the Fifth Sun
.
The Batsquatch resides in the mountains of the Mt. St. Helens. It has purple skin, leathery wings, blood-red eyes, and a head that looks like a combination between an ape and a bat.
Community content is available under
CC-BY-SA
unless otherwise noted.