.
In Guess Who's Going To Be Dinner, there are many odd Cryptid Plants in the Saturday's underground garden.
Biography
The first cryptid plant shown is a giant flower, that has hidden teeth on the ends of its petals, acting similar to a giant Venus Flytrap.
The next cryptid plant show is a huge blue flower that shoots spikes out of its ovaries. After it shoots its victim, it uses its vines to drain the prey of its blood.
The last type seen is the Madagascar Man-eating Tree. They drool out a green goo that is highly addictive. The prey grow addicted and walk closer to the plant. As they get closer, they fall into the plant, and the plant drains its victim of all of its internal fluids.
Series
On CartoonNetwork.com
The Madagascar Man-Eating Tree acts as an obstacle in the game "Code of the Cryptids".
Gallery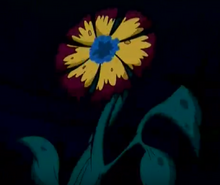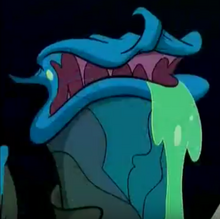 Community content is available under
CC-BY-SA
unless otherwise noted.