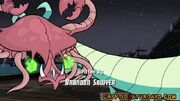 Migas is a crab\octopus creature. It make its first appearance in Once More the Nightmare Factory.
Biography
The Migas shown appears as having the top of its body as a crab, but instead of having legs it has octopus-like arms keeping it up. The claws are also attached to octopus-like arms instead of crab arms. Around 3 are seen in 'War of the Cryptids" fighting with Argost. These natives to Africa's Congo River are also known to drag people and vessels underwater to its lair. In the end of the series, the Migas, the Algerian Sea Centipede, and the Mississauga Blob returned to their habitats after Argost's defeat.
Series
Gallery
Community content is available under
CC-BY-SA
unless otherwise noted.