Tatzelwurm


Vital statistics
Species
Tatzelwurm
Habitat
Europe: the Austrian, Bavarian, Italian and Swiss Alps
Abilities
Blood draining
Venom
First appearance
The Return of Tsul 'Kalu
Tatzelwurm is an animal that resembles a mix between a cat and a snake that "stands" around six feet. It made its first appearance in The Return of Tsul 'Kalu, and later appeared in the video game "The Secret Saturdays: Beast of the 5th Sun".
Biography
This slithering cryptid has an odd way of catching its food source. It wraps itself around the hanging limbs of trees, and then snatches whatever comes close to the tree. It usually nests around trees near river sources. This beast is also said to drain the blood of its victims, and expel venoms from its glands to repel enemies. In the game, the Tatzelwurm is seen attacking in packs, and Zak must defeat them with an Adaro.
Series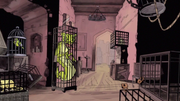 Community content is available under
CC-BY-SA
unless otherwise noted.