Trunko is a marine elephant-like cryptid. It made its first and only appearance in Zak's vision in The Return of Tsul 'Kalu.
Biography
This South African cryptid is said to be 45 ft. in length, 5 ft. in diameter, a 10 ft. trunk, and a 15 ft. tail. This creature has been related to the Hindu "Makara". Many believe that this creature has two subspecies: long-haired, and hairless. This beast actually resembles more to the types of elephant-fish seen throughout Egypt, the Congo, Gambia, Asia, Australia, and the upper and lower ice lands. This odd cryptid can also be related to the Makara.
Series
Trivia
Gallery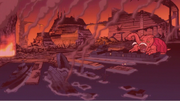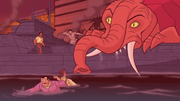 Community content is available under
CC-BY-SA
unless otherwise noted.